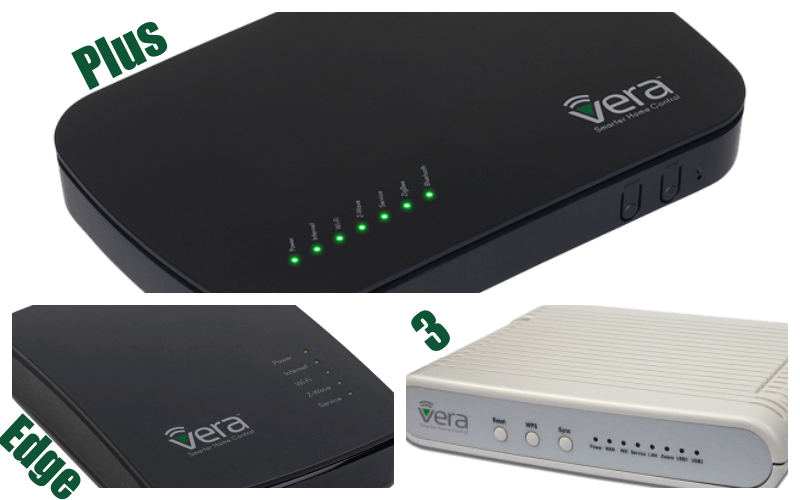 6/21/16 Update: VeraPlus has been released and I am a huge fan of it. I am working on a detailed review, but so far everything seen below accurately describes this fantastic hub!
After years of patiently waiting, Vera finally released the VeraPlus… well, sort of. They are currently in the process of releasing it. This release comes just about a year after VeraEdge was released and about 4 years after Vera3. Now, just because VeraPlus is the newest controller on the block, doesn't mean it's the best for your home automation project, but we'll get to all that in just a minute.
As a quick note: I've never used the Vera3 or VeraPlus (I have preordered it though), so I can't speak to their reliability or daily usage, but this review will primarily focus on specs. 
Hit the break to see how the new VeraPlus stacks up against it's older siblings, VeraEdge and Vera3.
The Specs
[table id=1 /]
As you can see from the specs, VeraPlus has a clear advantage over the other two Vera controllers. Of course, that makes sense considering this is Vera's latest and greatest controller.
You may be wondering why I'm comparing VeraPlus with VeraEdge and Vera3 instead of with VeraEdge and VeraLite. After all, VeraLite is newer than Vera3 right? Yes, but VeraPlus is Vera3's successor and VeraEdge is VeraLite's Successor, so it wouldn't make sense to compare VeraLite in this equation.
The new VeraPlus is a huge upgrade to the Vera3. The processor is significantly faster and more advanced, the RAM has been doubled, and the memory quadrupled. Compared to the previous generations, this thing is a beast.
Now, that isn't to say it's perfect, because in this day and age, any computer that has specs in the megabytes is laughable. Seriously, when was the last time you saw a computer with anything less than 2GBs of RAM or even 32GBs of memory. Most high end phones blow Vera's specs out of the water, but surprisingly, that's okay.
The VeraPlus is not meant to be a power house. Most of it's processing is sending commands to devices, which doesn't take much. In fact, most people won't even utilize it to it's full potential, so having such small amounts of RAM and memory isn't a big deal. Besides, Vera controllers are built on top of routers, so these specs are about as good as it gets, until they decide to build from the ground up (like HomeSeer does).
How They Stack Up
The new VeraPlus has been improved upon in almost every way compared to the Vera3. The only thing that
Vera3 has going for it is the two USB ports compared to the Plus's single USB port and 4 LAN ports which VeraPlus and Edge do not have. So, frankly it's a no contest between the two, VeraPlus is clearly superior.
As for VeraPlus and VeraEdge, the race is a bit closer. VeraEdge has the same amount of memory, the same number of USB ports, a router built in, and comes with Z-wave Plus. VeraPlus has all of that and more including a faster processor, faster RAM, Bluetooth, Zigbee, Gigabit Ethernet, and it can control more devices. It's easy to see that VeraPlus has an advantage over every other Vera home controller, but the question is do you need all the perks that the Plus offers?
Which Should You Get?
The answer to this question completely depends on your home automation needs. Do you have an extensive Z-wave network or do you simply want to control a few lights? Do you want to future proof your home automation system or do you just want to get your feet wet?
There's no one size fits all when it comes to home automation. My suggestions are below, but they're just that: suggestions. If you look at that and I suggest you get VeraEdge, when you really want to get a new VeraPlus, more power to you. Get what you think you need and use this table as a guideline to get you there.
[table id=2 /]
Wrap Up
Whether you're just getting started or your a seasoned pro, there are Vera controller options for everyone. I've used the VeraEdge for over a year with 75-80 devices and I've had virtually no issues. The only problem that has reared it's ugly head every once in a while is speed. Because of this, I am upgrading to the VeraPlus, but like I said, I have a lot of devices that require a lot more processing power than normal. If you have a small system or just want to start a small system, it might make more sense to get a VeraEdge or Vera3. The choice is yours.
Buy Here
zwavezone.com is a participant in the Amazon Services LLC Associates Program, an affiliate advertising program designed to provide a means for sites to earn advertising fees by advertising and linking from "Z-Wave Zone" to Amazon (amazon.com, or endless.com, MYHABIT.com, SmallParts.com, or AmazonWireless.com).