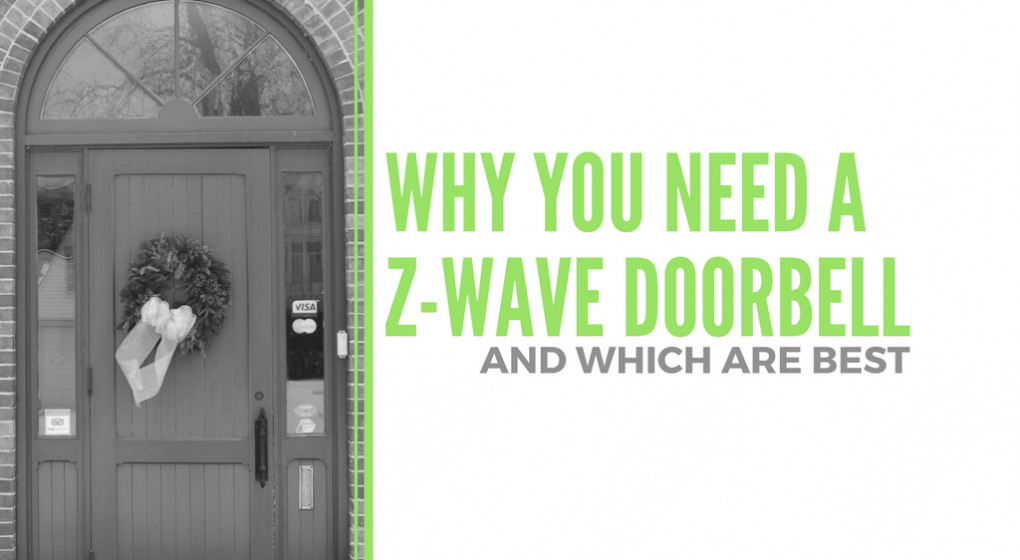 Let's say you have a state of the art Z-Wave home automation system, with the latest home controller, door and window sensors, outdoor lights, security cameras, and even a solid Z-Wave door lock for your front door.
You think you have your Z-Wave security system locked down air tight, but then a thief goes old school and rings your doorbell to see if you're home. When you don't reply, they may think you're not home and then decide to break into your home.
Awful, right?
Well, you can fix this all by getting a Z-Wave doorbell, so you'll always know when someone is at your door!
What Can a Z-Wave Doorbell Do for You?
The front door to your house should be the centerpiece of your smart security system. It's where you and your family enter, but more importantly, it's the first place others will try to enter as well.
While scoping out your house, thieves will likely try your front door first, often ringing the doorbell to see if you're home. With a Z-Wave doorbell, that ring can start a scene and let you see what's going on, whether or not you're home.
The doorbell itself can turn on outdoor floodlights, send you a notification on your phone, or it can turn on your security cameras pointed at your front door and automatically send you that video feed.
Many smart doorbells even have speakers, so you can talk with the person at the door and determine if they're on the up-and-up or not.
A smart doorbell can obviously also work like a normal doorbell and set off a chime if you're there, but an integrated Z-Wave network means that chime can ring wherever you are, even if that's thousands of miles away.
Since Z-Wave is a mesh network, having a smart doorbell will also strengthen your system, as it can repeat your Z-Wave signal!
The Best Z-Wave Doorbell
---
If you want a doorbell that will integrate with your Z-Wave security system and your smart home in general, you need the Aeotec ZW056.
This state of the art Z-Wave doorbell will help you protect your home from your front door to your back fence, as you can set it up anywhere!
Here are some of the great features the Aeotec doorbell offers:
A button press outside notifies the whole Z-Wave system that someone's at the door. This can, not only signal the chime, but it can also activate any other Z-Wave devices you choose, from cameras to lights.

When your system is integrated, your whole home can respond to a ring of the doorbell.
The doorbell's outdoor button also communicates wirelessly with your Z-wave hub and, in turn, with you via your phone, computer, or tablet.
The Aeotec ZW056 is also the only Z-Wave doorbell on the market, so if you want your doorbell to be Z-Wave, you don't have much choice at this point.
The doorbell speaker is completely configurable so that you can change the ringtones and volume to your liking.
The doorbell button has a very low profile, so it can easily blend in. The speaker module is also relatively small at around 65mm by 93mm, and it's only 81mm deep, so it doesn't stick out from the wall too much.
Installation of this Z-Wave doorbell is super easy too! You can use screws or even double-sided tape. The speaker is easy to install as well, as it simply plugs into a power outlet.
This Z-Wave doorbell also works with various Z-Wave smart home controllers, including HomeSeer, SmartThings, and Vera.

Other Smart Doorbells
While the Aeotec offers the only Z-Wave compatible doorbell on the market, there are other smart doorbells that you certain hubs can integrate with.
Obviously, a doorbell with a Z-Wave chip in it is the easiest to integrate into a Z-Wave system, however, many hubs (ie. SmartThings) are now starting to integrate with non Z-Wave/Zigbee devices.
Our Favorite Non Z-Wave Smart Doorbell



---
Ring, originally known as Doorbot, has been around a few years now and they've certainly made a name for themselves in the smart home world. They offer a very unique product that certainly solves multiple homeowner issues (ie. knowing who is at the door and being able to communicate with them) all with one device!
---
Video

Capability

Ring features a built in 720p video camera! How cool is that? Since it's built in, you don't have to connect to other security cameras to see who's at the door, you just cheak your doorbell app. You can even get a pretty good view of the street too, as it has a wide angle lens.
Design

The Ring comes in a variety of finishes, so you can make sure it matches the exterior design of your house. The look of your Z-Wave doorbell may seem like a small thing, but it can sometimes be a deciding factor in whether or not thieves target your house. You don't always want your security system to be noticeable.
---
Connectivity

Ring doesn't have a Z-Wave chip, so it won't directly interface with your Z-Wave hub. However, the Ring doorbell is WiFi enabled, which gives you some connectivity, especially if you have a hub that uses both WiFi and Z-Wave that can integrate with it.
Price

One of the biggest deterrence to Ring, is it's price. Ring is a premium smart home device that regularly sells for $200. Occasionally, you can find sales on it, but it's pretty rare.
Conclusion
You'd think that no thief would be bold enough to ring your doorbell and check if someone is home, but oftentimes that's how they determine if they will break in or not.
Many people focus on their backyard or the more hidden areas of their homes, leaving the front door a weak spot in their security. The best way to plug that hole in your smart home security system is to get a Z-Wave doorbell and Z-Wave deadbolt.
This way, you can strengthen your Z-Wave network, turn on lights, set off alarms, and see exactly who's at your door, no matter where in the world you are - even if you're just in the basement!
zwavezone.com is a participant in the Amazon Services LLC Associates Program, an affiliate advertising program designed to provide a means for sites to earn advertising fees by advertising and linking from "Z-Wave Zone" to Amazon (amazon.com, or endless.com, MYHABIT.com, SmallParts.com, or AmazonWireless.com).